Here at Quin, we want to help the current situation in any way we can. This is why we have been working around the clock to develop Ramsol which is a Sanitiser Disinfectant Spray to help provide a solution to a safer working environment.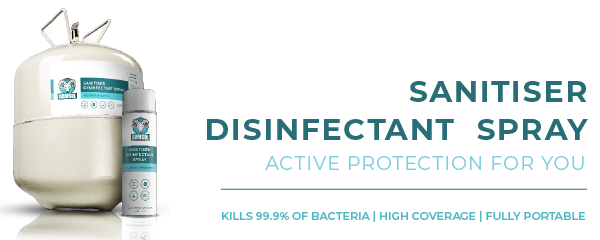 Note: This product is not available in the USA.
Ramsol contains active biocides, specifically designed for the cleansing and disinfecting of hard and soft surfaces as well as tested and proven for use on skin. The Ramsol spray is a revolutionary mist spray with fogging technology designed to sanitise and disinfect any challenging to reach and intricate areas with full surface coverage.
This product deals rapidly and effectively with an extensive list of bacteria, viruses, fungi and moulds.
HOW DOES RAMSOL HELP YOU?
Our aim is to help the current situation by making disinfecting as quick and easy as possible and giving you a system that is guaranteed to kill 99.9% of all bacteria. The Ramsol canister is very easy to use and is entirely Non-Flammable and has zero set-up time. Therefore, helping you to disinfect large areas quickly as it is fully portable and requires no power source.
WE WANTED TO GIVE YOU A FULLY PROVEN AND TESTED DISINFECTANT
Quin would only ever want to provide you with a product that is proven to work, which is why Ramsol has been rigorously tested to ensure you have the best product to help combat the current situation. Ramsol is also entirely safe for use on skin as it is Alcohol-Free. This means there is no issue with skin drying, irritation, flammability or even substance abuse. The disinfectant also has active biocides, which gives effective and residual action, unlike alcohol-based products.
It is also Food Safe and meets BSEN1650 and BSEN1276 certifications. The disinfectant has a unique "dual-quat" which provides effective control of the widest range of microorganisms, including bacteria, viruses and fungi.
WE WANTED TO TURN OUR EXPERTISE IN HELPING THE COMMUNITY
Our people are committed to helping and supporting the current situation in any way they can. This is why we have adapted our existing adhesive production facilities to manufacturing spray disinfection. We want to use our technology to benefit as many people as we can by providing the solution to a safer working environment. All our staff are maintaining social distancing rules in the making of Ramsol, and we are adhering to all guidelines provided by the government in ensuring the safety of all staff.
LOOKING TO FIND OUT MORE?
If you are interested in finding out more or looking to download the TDS or leaflet please use the contact below to get in touch with us and we will be happy to provide you with further information -
CONTACTS
Email:ramsol@quinglobal.com
Web: www.ramsol.co.uk
Telephone:01738 494919